Stakeholder Engagement
The Kyokuyo Group contributes to solving societal challenges including SDGs via our business activities.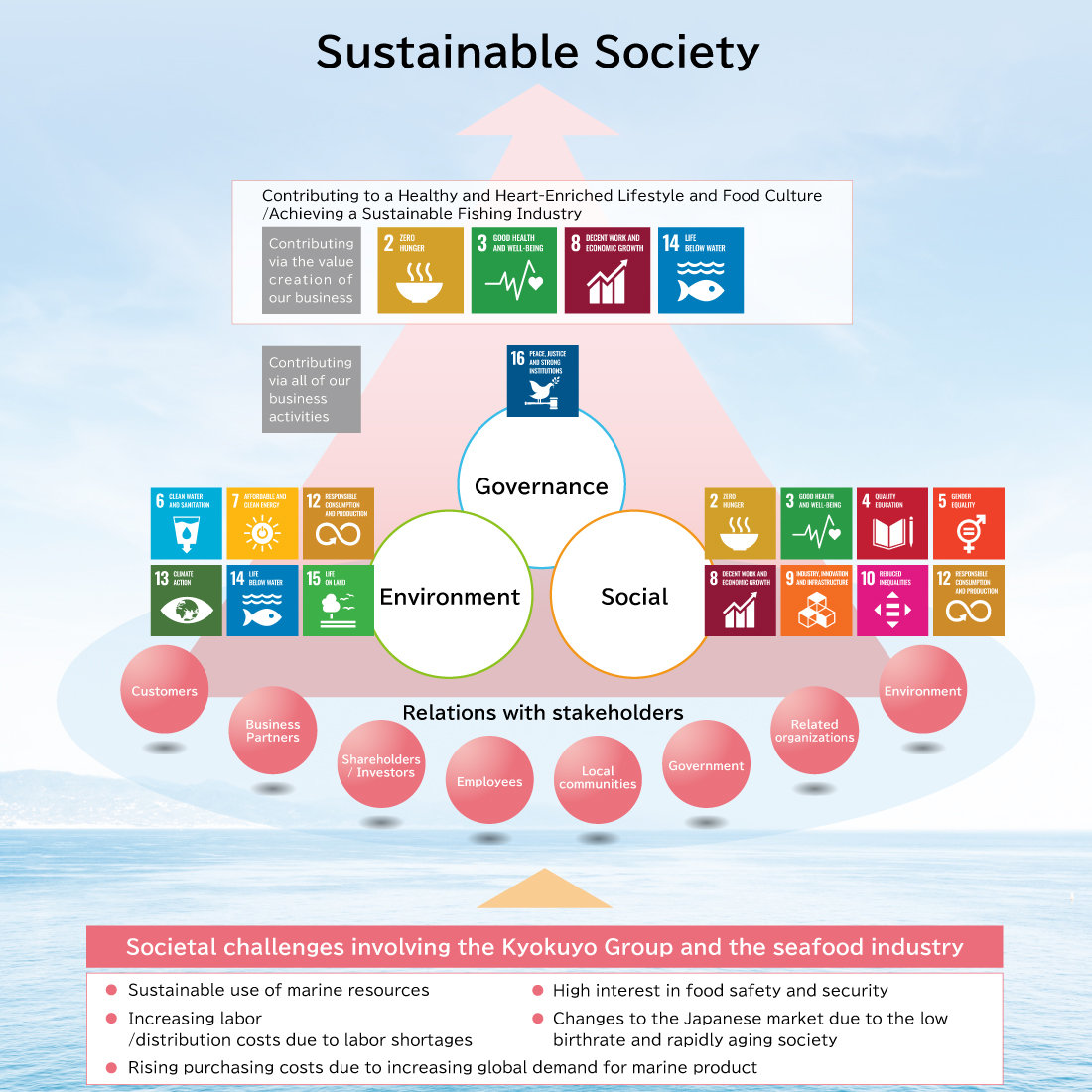 Overview of Sustainable Development Goals (SDGs)
SDGs were incorporated in the 2030 agenda for sustainable development adopted at the UN Sustainable Development Summit in September 2015.
These 17 global goals for solving various challenges such as climate change, resource depletion, and human rights contain 169 targets.
The SDGs request action for sustainable growth not only to national governments, but also corporations and civil society, and the United Nations positions corporations as important partners for achieving the SDGs and requests that they work towards them.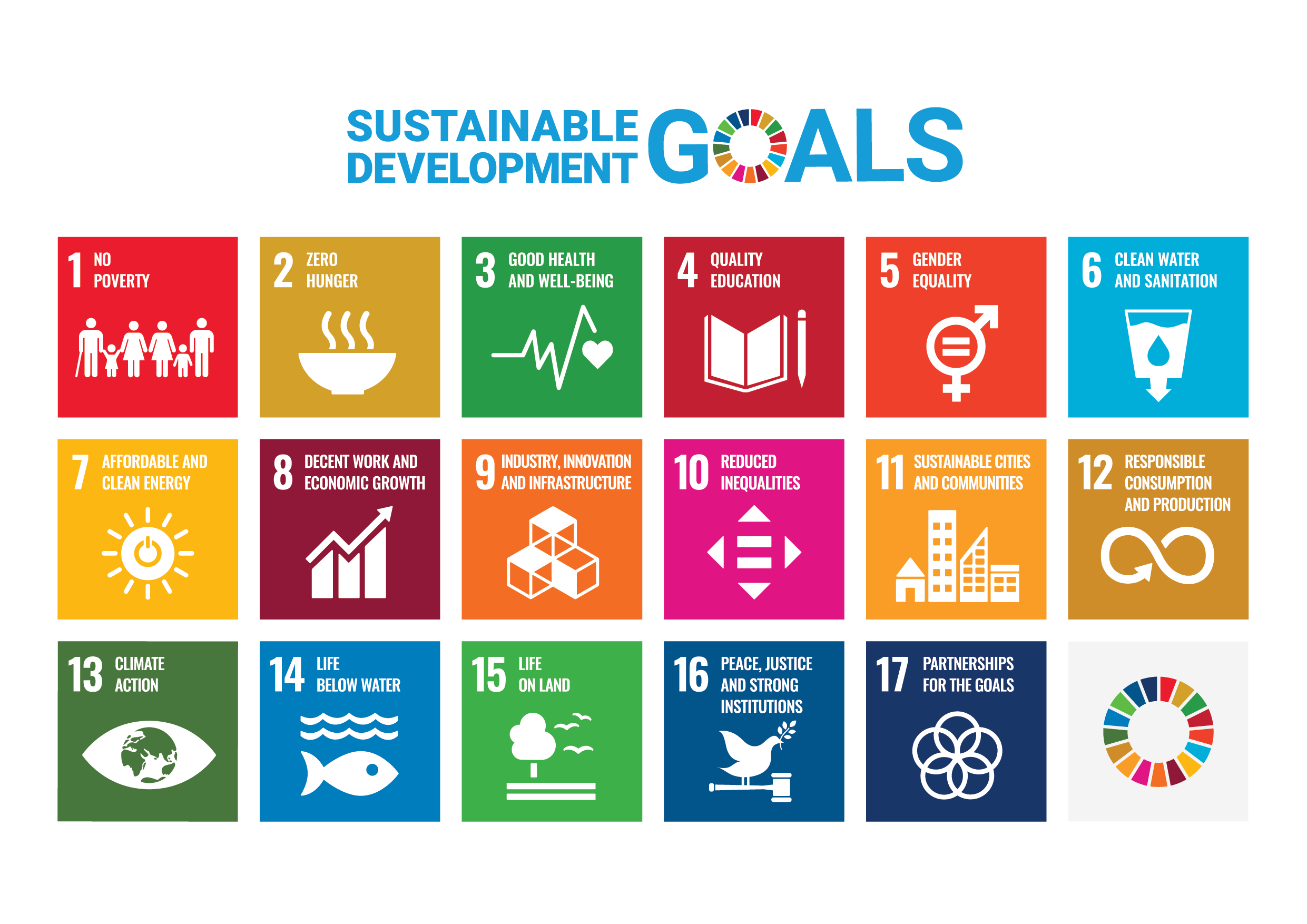 Joining the Japan Clean Ocean Material Alliance (CLOMA)
The Japan Clean Ocean Material Alliance (CLOMA) was established in January 2019 with the assistance of the Ministry of Economy, Trade and Industry as a place to enable corporations to exchange information and conduct business matching, with a focus on industry, in order to solve the problem of ocean plastic by promoting the sustainable use of plastic products and the development and adoption of revolutionary substitute products that will lead to a reduction in plastic waste.
CLOMA is joined by companies from various industries and has currently established three subcommittees to launch initiatives for solving societal problems with a focus on the exchange of information.
The Kyokuyo Group recognizes that the problem of plastic ocean pollution entails grave risk and is directly related to our business.
CLOMA distributes the latest information on new materials and substitute products, and we utilize this knowledge in our business activities to provide useful feedback and work on solving problems.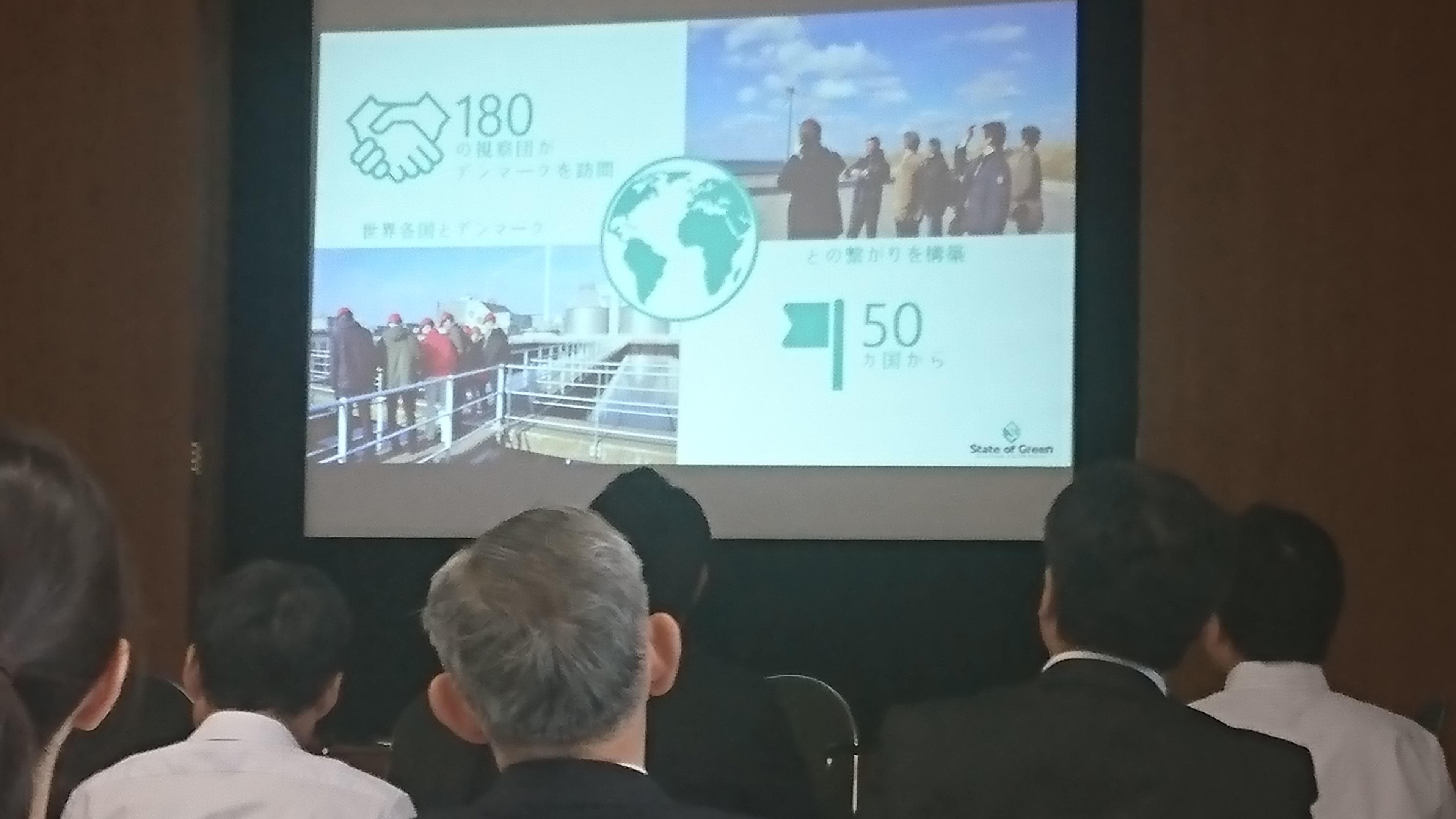 Joining the Seafood Business for Ocean Stewardship (SeaBOS)
The Seafood Business for Ocean Stewardship (SeaBOS) is a global initiative that enables major industry leaders in global ocean fishing, aquaculture, and aquaculture feed to work together with scientists in order to supply sustainable marine product to consumers based on a scientific approach, while also working toward solving problems in order to achieve healthy oceans and environment.
We joined SeaBOS in April 2017. As of the end of September 2019, 10 companies around the world have joined.
SeaBOS enables participating companies to join together to cooperate with supply chains and stakeholders in order to tackle challenges such as eliminating IUU fishing and slavery and reducing ocean plastic and the use of antibiotics in aquaculture.
Of the Sustainable Development Goals (SDGs) defined by the United Nations, SeaBOS focuses efforts on contributing to achieving Goal 14, "Life Below Water," which involves the conservation and sustainable use of oceans and ocean resources.
We wish to improve our sustainability and contribute to solving societal challenges via SeaBOS activities, such as achieving healthy oceans and a sustainable seafood industry.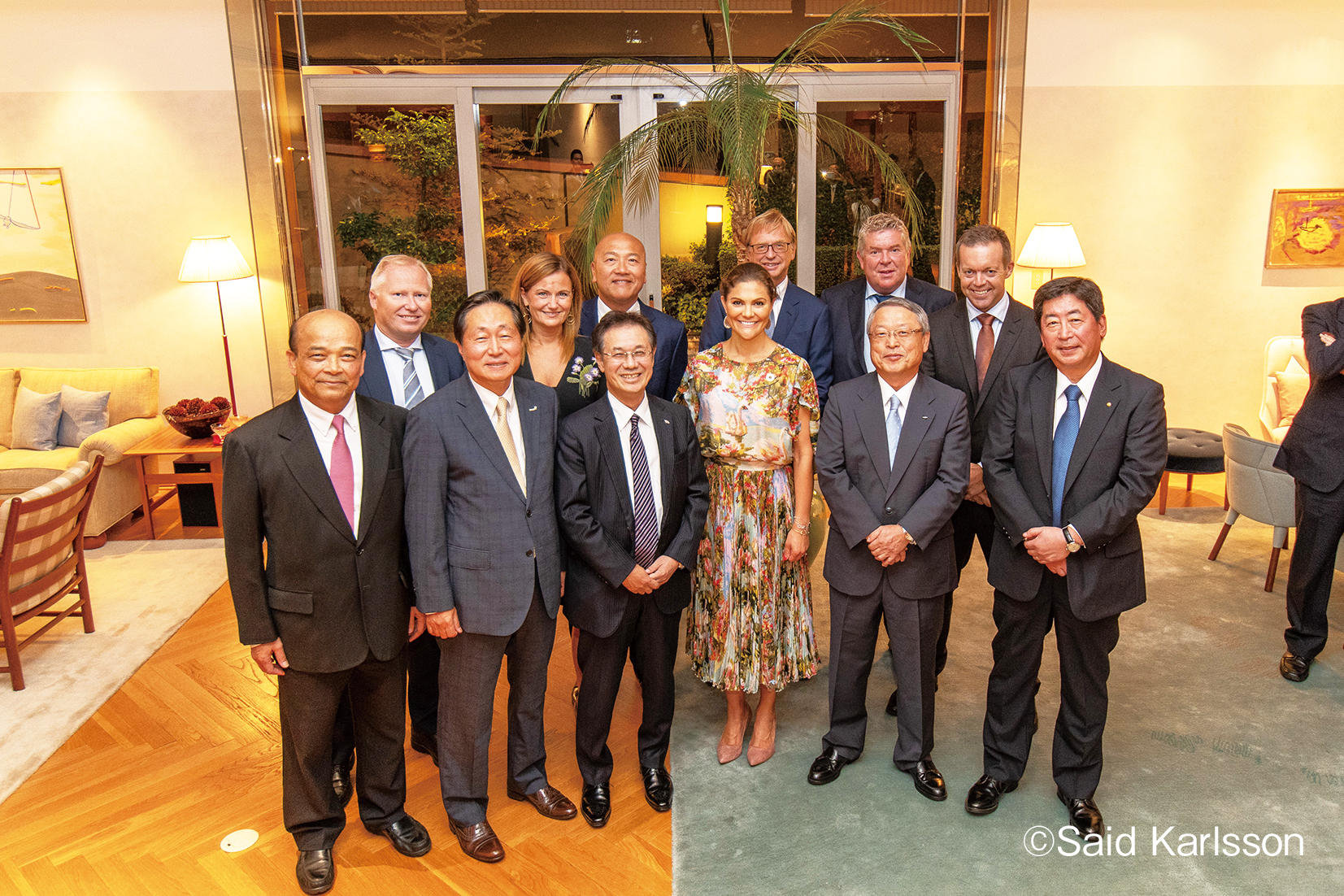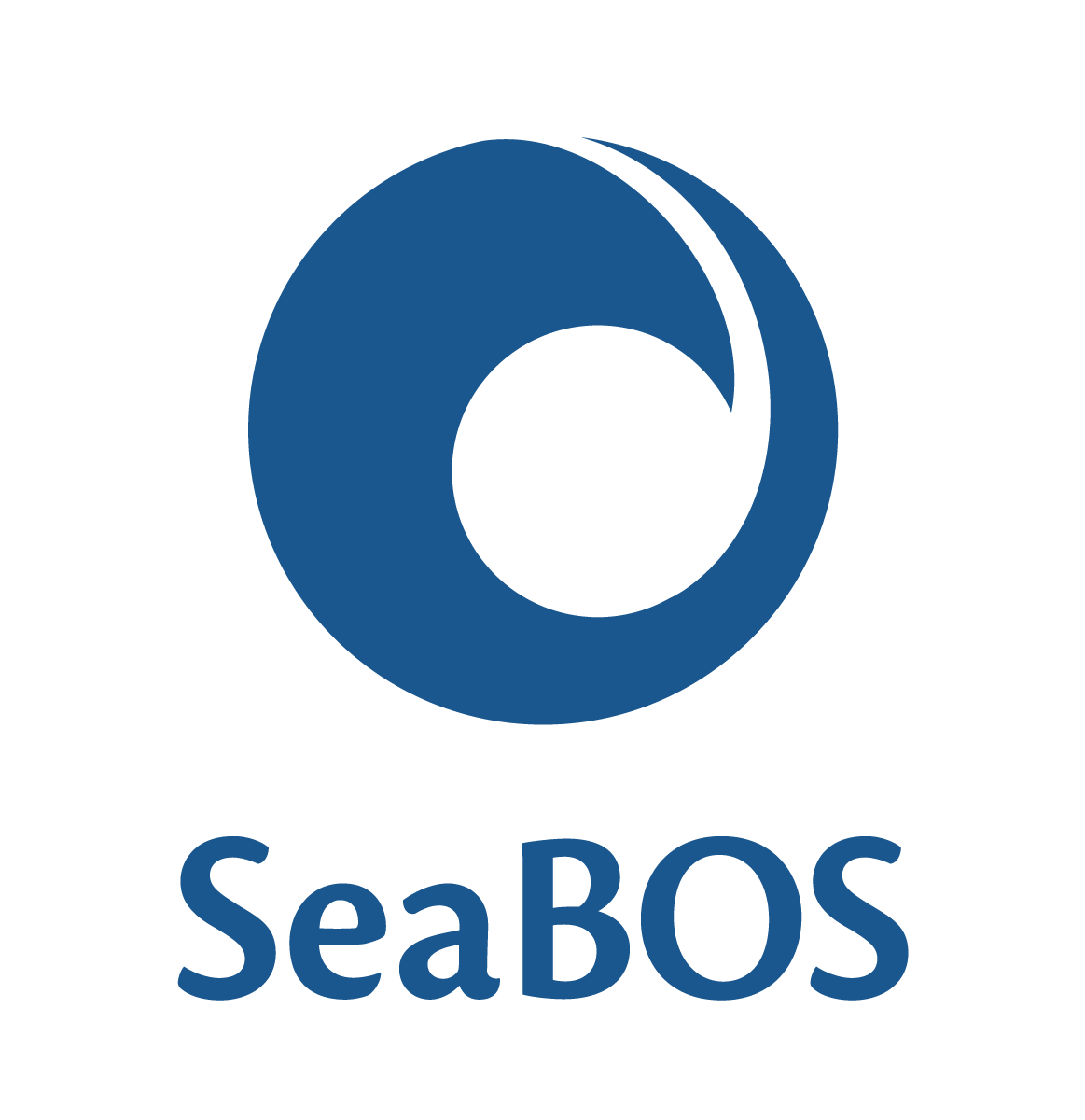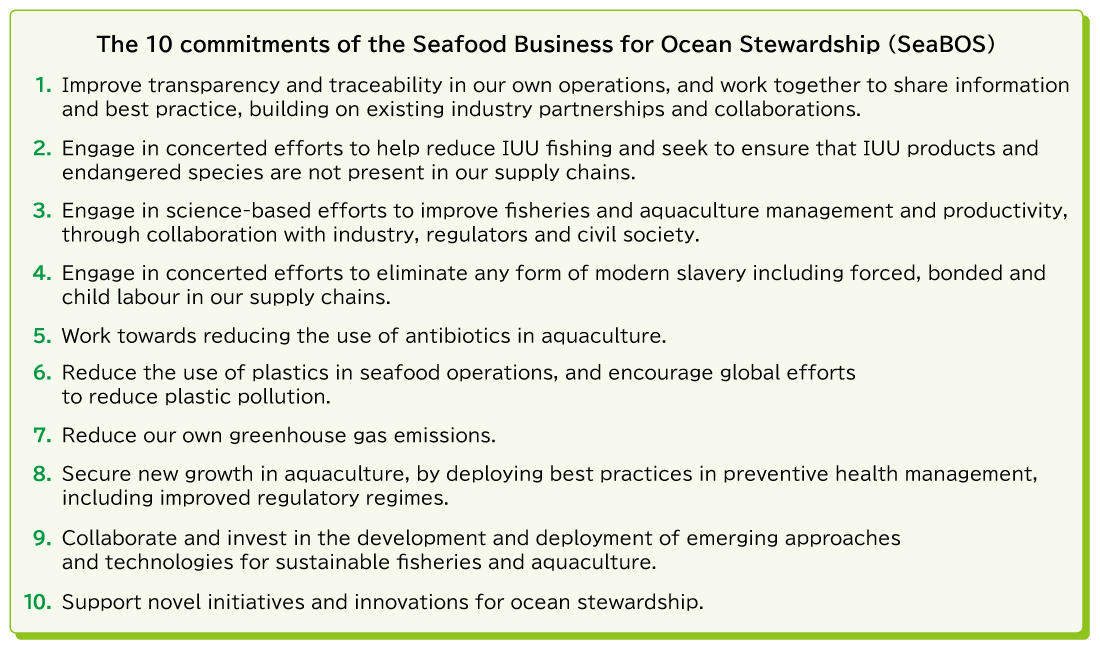 Topics